We can't seem to go a day without seeing a 'work from home' or 'remote work' headline, and CEOs are taking note. As companies assess their spending in the midst of the COVID-19 pandemic, it appears that office real estate is in for its own exodus.
Or is it?
Businesses may be pleasantly surprised to find that their employees can work from home and stay productive, but just because something is possible doesn't mean it's desirable. A recent survey actually found that only 12% of U.S. workers want to work from home full-time.
Overwhelmingly, the survey suggests that people want to return to the office, albeit with safety measures in place. They miss connecting with colleagues face-to-face and feel less productive and satisfied when working from home. People want in-person collaboration, training, and mentorship. At the end of the day, humans are social beings.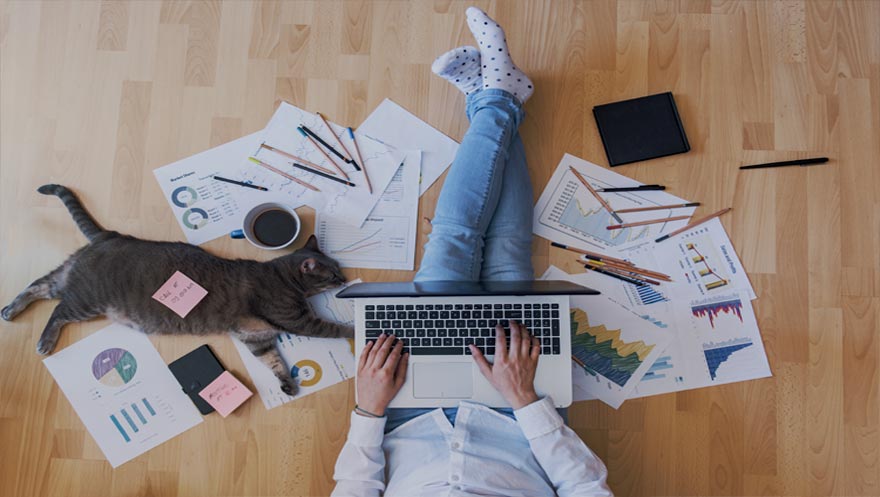 Is Remote Work Really a Threat to Office Space?
Besides workers' desire to interact in-person, the supporting evidence for work-from-home productivity is unconvincing. While many companies did experience a productivity pickup in March and April, prompting companies like Twitter to announce that employees never have to return to the office, things have more recently taken a turn.
After just a few months, the magic of remote work seems to have worn off. In July, enterprise productivity across the U.S. dropped 14%. Twitter's CEO may soon be kicking himself.
This bodes well for office investors, who up until now have been told to prepare for the worst. If remote work's productivity doesn't measure up, office space demand will resume. Those prepared to offer safe working spaces in the wake of COVID-19 will be best positioned to advance their commercial real estate goals.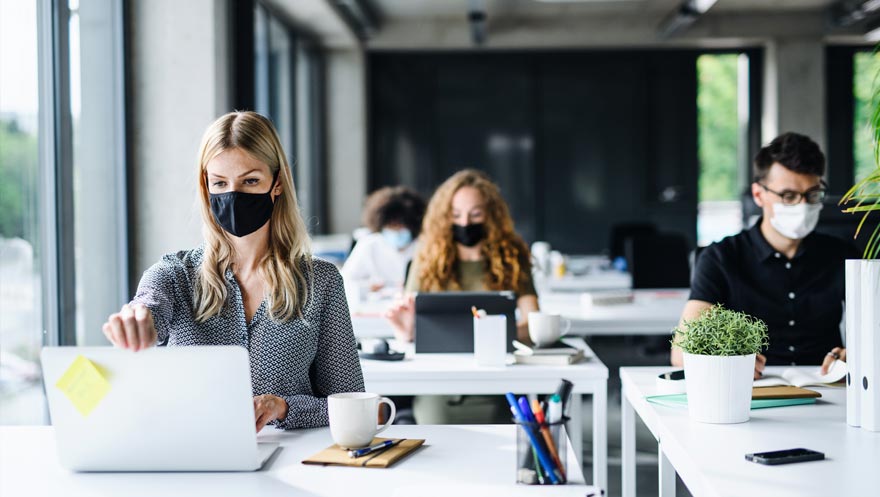 How to Succeed in Office CRE Post-COVID
People want to return to work, and they want to do so safely. Businesses are responding. Eighty-one percent of CFOs surveyed by PwC said their company plans to implement new workplace safety measures and requirements when they transition back to on-site work.
For those in commercial real estate, that means investing in office upgrades that improve safety by reducing the potential for viral transmission at the office. Well-designed and safe offices attract talent and help set an organization's culture. Create safe spaces to socialize and work, and tenants will come.
Here's what that looks like: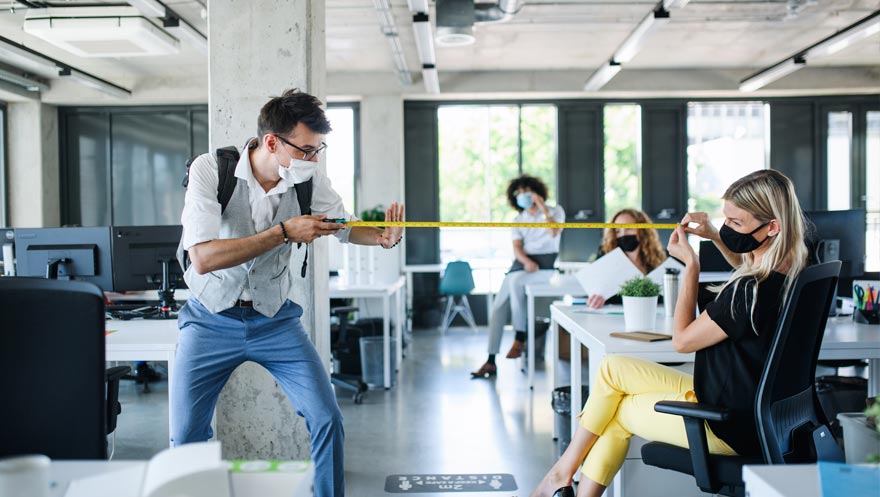 1. Distancing
Designing and arranging office spaces that allow occupants to remain six feet apart is the new challenge.
For already occupied buildings, rearranging or exchanging furniture is an obvious first step. Offices are trading conference room tables for individual, spaced-out desks and using signage to direct foot traffic in one-way flows to reduce interactions in narrow hallways. Occupied/unoccupied indicators like those found in bathrooms can help workers know whether it's safe to enter confined spaces like closets, storerooms, or break rooms. Workstation dividers are increasing in popularity, and personal lockers may become a norm.
Empty buildings are in an even better position to implement distancing in workspace design. Investors and property managers should look into working with designers like Six Feet Office to create attractive, safe offices.
Ultimately, the concept of 'maximum occupancy' is changing. There's only so much space in a building to spread people apart in. There's a chance that not everyone will return to the office full-time, but the good news is that businesses will likely still buy and lease spaces for meetings, collaborative work, and employees who simply work better in an office setting.