Are you a small business owner that has been adversely affected by COVID 19 outbreak? Are you interested in receiving economic assistance to support your business(es) during these unparalleled times? With all the conflicting reports in our 24-hour news cycle, are you confused about what relief you qualify for and how to obtain it? PRC is here to help.
Since the historic CARES Act signing, small business owners nationwide have been clamoring to take advantage of the relief available to stabilize their business and their employees' households at a time when traditional revenue is not available to cover standard business costs. What they have received thus far have been constant policy changes, crashed sites, and blown expectations.
Pioneer Realty Capital is Here to Help! Call 877-350-9416 to speak with an expert and get the financial help you need to cover short-term operating expenses and retain employees.
Loans up to $2 million
$10,000 advance available for COVID-19 related filings
Interest rates are 3.75% for businesses and 3.0% for non-profits
Up to 30-year terms
Eligibility is based on the sized, type of business and financial resources
Not based on payroll
Fill it Out
Email it to

stimulusrelief@pioneerrealtycapital.com

today to

Get Approved
In a sea of worry, uncertainty, and financial strain, Pioneer Realty Capital wants you to remember one thing… We are Here! Call 877-350-9416 to speak to an expert. Get the emergency funding needed to keep your employees and get your bills paid in as little as a few days. PRC is here to help you get you through this.
UPDATE 5.5.2020: EIDL restarted at 10:30 EST 4/27/2020 – Apply now with help from Pioneer Realty Capital. This additional $322B will help countless small businesses & will save millions of jobs. Pioneer Realty Capital has over 18 years of experience submitting professional grade SBA loan packages that get approved fast. Don't call the SBA 1800 line and wait for answers like everyone else. Contact PRC at 877-350-9416, and get the answers you need now.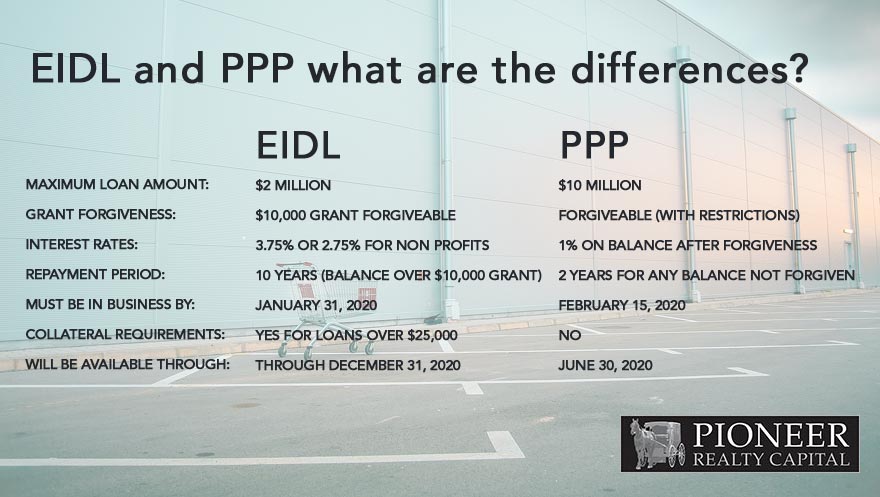 What is the right Relief option for my small Business?
In our recent COVID-19 Emergency Financial Relief and Paycheck Protection Program Approved articles we outlined the programs that PRC has enacted to assist small business. Did you know that as of Friday, April 3rd, the day the Paycheck Protection Program was scheduled to launched, approximately $20B in applications had already been filed? Reports as recent as April 7th, showed that of the 30 million small businesses in the US, fewer than 200,000 loans have been processed.  If the filing rate continues, the $349B allotted for the program will be accounted for by April 20 (17 days). There has been some discussion in Congress allotting more $$$ to small business for this program.  But to date nothing has been officially submitted or voted into law.
Many SBA lenders previously open to accepting PPP applications from all comers have limited service options to current customers. Furthermore, some have decided to only lend if your monthly payroll averages meet a certain threshold.
It's clear that many small business owners will not have an opportunity to take advantage of the PPP program. So how do you ensure you don't waste time attempting to file a PPP application only to learn you don't meet the additional conditions set forth by the bank? Call PRC!  We are an SBA correspondent lender that can get you the EIDL and or PPP financial relief you need. More importantly, we understand the constantly changing requirements and caveats, and keep you informed at every step. We are the lender that can ensure your application gets submitted quickly and proficiently in order to get your funds distributed in a timely manner.
"We have been working with Pioneer Realty Capital since 2007. We have been through multiple challenges, and they have always delivered what they promised." — Mendi Salijeski, SS Partners Management
Download the EIDL Application, and email your application to stimulusrelief@pioneerrealtycapital.com to start the process of protecting your small business in a fr